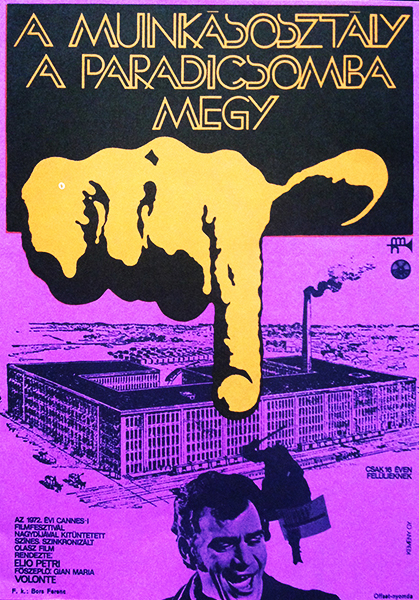 Working Class Goes to Heaven, The
Hungarian title:
A munkásosztály a paradicsomba megy
Artist:
Size:
Kemény, György
Tram poster (cca. 17 x 24 cm)
Year:
Condition:
1973
Fine.
Material:
Paper, offset.
Price: $50
Description:
Pop art inspired poster for a 1971 Italian film, The Working Class Goes to Heaven (original title: La classe operaia va in paradiso) directed by Elio Petri. It stars Gian Maria Volontè, Mariangela Melato and Gino Pernice, the music was composed by Ennio Morricone. The film shared the Grand Prix with The Mattei Affair (with also Gian Maria Volontè as leading actor) at the 1972 Cannes Film Festival.
A conscientious factory worker gets his finger cut off by a machine. Although the physical handicap is not serious, the accident causes him to become more involved in political and revolutionary groups.
György Kemény mixed photomontage with vivid, contrasted colours (orange, black and purple) and eye-catching typography.