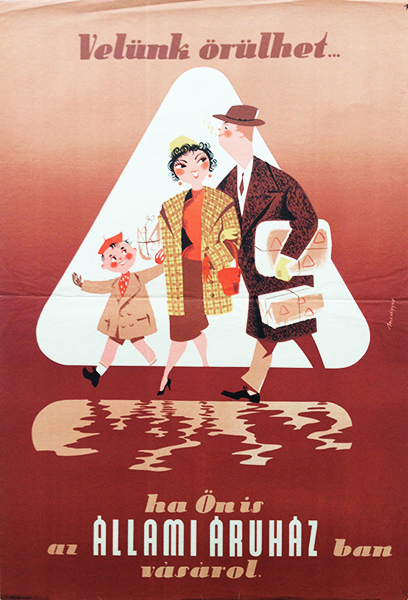 You can be happy with us...If you also shop at the State Department Store
Hungarian title:
Velünk örülhet...ha Ön is az Állami Áruházban vásárol
Artist:
Size:
Medgyes
A1 1 Sheet (cca. 55 x 84 cm)
Year:
Condition:
1957
Fine, light fold marks and two bigger tears at the bottom.
Material:
Paper, offset.
Price: $400
Description:
'You can be happy with us… if you also purchase in the State Department Store' – commercial poster from the late 1950s. It was designed by an artist referred to as 'Medgyes'. There is not so much information about him, but what can be known is that he designed some commercial posters after the World War II.
The poster was an advertisement for the State Department Stores. They were a nationalized chain in the socialist era, founded in 1949. These stores had a different system from those shopping centres known today, as they didn't have numerous little shops of different brands. Instead, State Department Stores functioned as big economic unities and they had several departments for women's wear, men's wear, shoes, technical goods, presents and souvenirs, toys, etc.
During the first part of the 1950s, artistic freedom was under constraint by political dictatorship in Hungary, in accordance with other Eastern European countries in the Soviet Union. The norms of Socialist Realism were obligatory, which meant that poster designers had to meet the requirements of socialist content and a realist manner. Mostly a heroic, figurative portrayal was employed to make the propagandistic messages clear and easy to understand. However, the system soon started to soften and after 1956 Socialist Realism lost its absolutism in the country.
This design was created in 1957 and it is a good indicator of the graphical changes of these years. It shows a scene with a small family – a child, a mother and a father – leaving from a State Department Store cheerfully with packets. The child figure and the mother figure are looking and smiling at the father figure who is smoking cigarette convivially. They all seem to be really happy for their shopping. They are depicted to be rich with their elegant clothes. The trench coat, the tweed costume and the characteristic hats reflect the fashion tendencies of the time. The figures are placed in front of a big, white triangle which represents the gate of the store as they are stepping out of it. Under their feet a puddle reflects the light of the upper triangle and the shadows of the figures appear on it. All this composition appears in front of a middle brownish background with a harmonic typographic design at the top and at the bottom which highlights the name of the store. The figures are captured with a strong cartoon-like manner which was really popular again after the boring and dull propaganda of the socialist realist pieces.
The whole design reflects that old-new modernity which reappeared during the following decade in Hungarian poster art. Light-hearted and slightly humorous commercial designs were created these years in international poster art, too. They employed a similar cartoon-like style which can be seen here. However, this piece was designed within the specifically local cultural circumstances – e. g. the advertised state department stores were especially socialist versions or equivalents of western shopping centres. This dual character ensures that special 'retrograde' atmosphere to the design if we have a look at it today. Taking everything into account, this work is a decorative piece of art which is also connected to interesting historical issues.