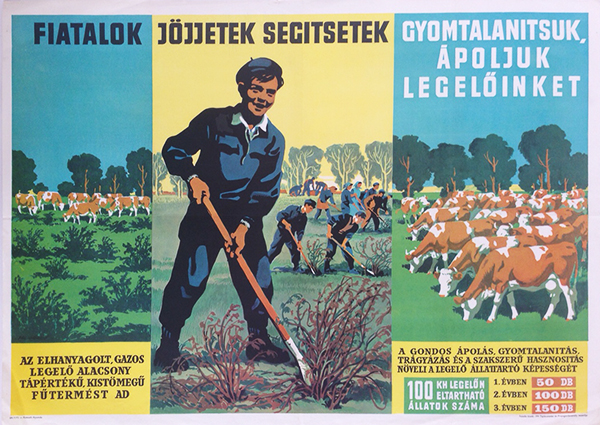 Youngsters! Join us! Weed Out Our Pastures!
Hungarian title:
Fiatalok! Jöjjetek segítsetek, gyomtalanítsuk, ápoljuk legelőinket!
Artist:
Size:
Unknown artist
A1 1 Sheet (cca. 55 x 84 cm)
Year:
Condition:
1964
Fine, fold marks, creases and smaller tears along the border.
Material:
Paper, offset.
Price: $180
Description:
Poster for a governmental agricultural campaign. The poster calls youngsters to take part in the weeding of pastures because it raises its animal breeding capacity. It also shows an example: the animal breeding capacity of a 100 kilo hectar pasture can triple from 50 animals to 150 animals in 3 years.