Fényes Adolf
1867 - 1945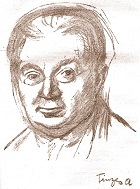 Fényes, Adolf
Fényes was a famous Hungarian painter. His career began at the end of the 19th century.
Fényes developed a naturalist, later rather post-impressionist painting style. His favorite theme was the everyday life of peasants. He founded the artist colony of Szolnok, where he was also teaching.
Fényes created one extremely decorative exhibition poster for the annual Spring Exhibition of the Artists Society. The monochrome, Art Noveau styled composition shows a symbolic scene: the muse kisses the painter's forehead.
He also designed a travel poster for the famous health resort and spa in Lipik, which is in Croatia today. .