Pap Gyula
1899 - 1983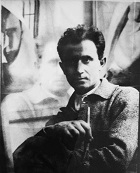 Pap, Gyula
Gyula Pap was a painter, graphic artist and industrial designer.
He started his studies in Vienna but it was terminated because he was enlisted, thus he had no other choice, but fighting in the First World War. Afterwards he intended to continue his studies in the private school of Johannes Itten in Berlin, but the school was soon shut down. Pap did not give up on his dream and he continued his studies in the Bauhaus school of Weimar at the metal department between 1920 and 1923. During these years he created kettles and lamps in a moderist style.
He spent the following three years in Nagyszeben where he created mostly lithographic sheets. Between 1926 and 1933 he taught in the new school of Johannes Itten in Berlin. In the early 1930s he worked together with László Moholy-Nagy on advertising designs. He returned to his homeland, Hungary, in 1934.
All through his life he was painting. At the beginning he was rather interested in Constructivism and later on he turnd towards biomorph compositions. After 1945, the blue collar workers - factory workers, miners, etc. - served as the main theme for his paintings.
He created Constructivist poster designs in the second half of the 1930s in Budapest. By this time, the big names of the style, Bortnyik and Berény, have moved on from the Modernist poster to a more painting-like manner. Pap brought the functional attitude of the Bauhaus back into Hungarian poster art. One of his most important posters is for Guttmann collar from 1935.
Besides painting and designing posters, he was also an influential teacher between 1949 and 1962, inspiring generations of artists. .