Márk Lajos
1867 - 1940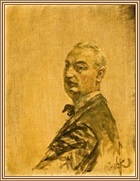 Márk, Lajos
Márk was a famous painter of his time and designer of great Art Noveau posters.
Mark studied at numerous schols. He first went to the "Mintarajztanoda" (the first Hungarian art school) in Pest, then he moved to Munich, where he became a pupil of Simon Hollósy and he studied simultaniously at the Academy. Later he attended the Julian Academy in Paris and Gyula Benczúr's master school in Pest. He also visited the famous artist colony of Nagybánya.
Márk soon became a successful "salon" painter in Pest, which means that he was very popular among the upper-middle class circles.
His magnificent posters are fresh and modern compared to his Biedermeier-styled paintings of the age. He also made graphic compositions, lithographic albums, etc.
In 1910, Márk was invited to the USA, and he settled there.
In his poster art, Lajos Márk was able to combine his academic knowledge of painting and the new Art Noveau poster style, which he became familiar with in Paris. His works are famous for their beautiful women figures, which are called "chérettes", after Jules Cheret, the great founder of poster art. The main characteristics of Márk's art are the gentle forms, vivid colors and lovely figures. He could successfully combine the modern spirit of Art Noveau with rococo and biedermeier decorativity.
He designed many posters for a bank, Magyar Jelzálog és Hitelbank, most of which depict a beautiful woman figure. His most famous poster was made for a mineral water company (Kristályvíz). He also designed cultural posters, for instance a poster for the Vígszínház theatre in Budapest (Mici hercegnő - Princess Mici). .