Kádár, György
1912 - 2002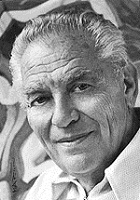 Kádár, György
Kádár was a painter, graphic designer and art teacher.
As a young artist, he created poster designs, later he concentrated of working as a painter and teacher. He joined the labor movement at an early age, and moved to Paris.
During the 1940's he was sent to a concentration camp, and that had a profound effect on his later works.
In the 1940's he designed theater posters. After the 1950's he became a supported artist and got several commissions for monumental works. He was teaching at the Academy of Fine Arts from 1949 until 1974, and he influenced many graphic artists of the next generations. .