Vörösmarty, Magda
1933 - 2017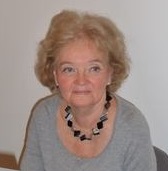 Vörösmarty, Magda (source: iwiw.hu)
Graphic designer. She graduated in 1959, she studied decorative painting. Then she started working every field of graphic design: she made logos, posters, flyers, corporate identities, and exhibition and fair designs. Besides, her works have been exhibited since the beginning of her career.
In the 1960s she designed some important commercial posters which represented the many different techniques and styles of the age. With the paper cut-out technique and with meticulous drawing she could achieve very decorative, flat-like compositions. In her fashion posters she was able to exploit the intensive decorative effect of flat paper-cut shapes (Habkabát). She created matching typography, using drawn letters.
On some of her works she combined overexposed photography with the refined drawing (for example: Landscape after battle, 1970). Sometimes the detailed drawing appears next to abstract, compact painted areas, which gives her works high aesthetic value; this appears for example on her travel posters (Plattensee, Budapest). The contrast of black and white is dominant on many of her works, like the Op Art design of Magyar Hirdető (Hungarian Advertiser), or later posters from the 1970s. Her movie posters often use overexposed photography combined with decorative fields of strong colours. .
Available posters by this artist