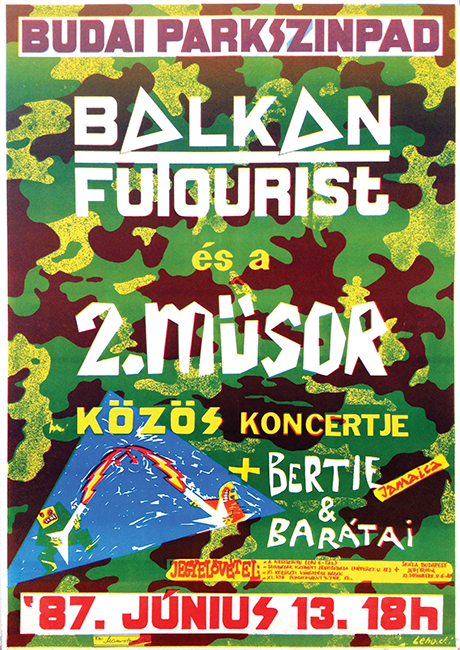 Balkan Futourist and the 2nd Set
Hungarian title:
Balkan Futourist és a 2. műsor
Size:
A2 1/2 Sheet (cca. 42 x 59 cm)
Condition:
Fine, one horizontal fold mark, small creases.
Material:
Paper, offset lithography.
Price: US$240
Description:
Poster of the concert of Balkan Futourist and Bertie & his friends. The show was held in 1987, 13th of June in the Buda Parkstage.
By the 1980s one could speak his viewpoint in Hungary without having to be afraid of a serious retaliation. This situation was enough for the powerful young generation to gather ground and articulate their sharp criticism of the system in the form of art. In this changing world a fresh, ironic, critical and humorous art appeared: music, fine art and performance art which was inspired by popular culture and avoided the official institutions of art. However, the underground cultural life didn't only manifest in the criticism of the system; it also used the hypocritical image of the American ideal life as a motif. The art of the new generation was characterized by the critical neo-dadaism and a sarcastic tone.
The group Balkan FuTourist was an important member of this subculture although they were only active between 1985 and 1989. Their poster reflects the visual art of the new generation.