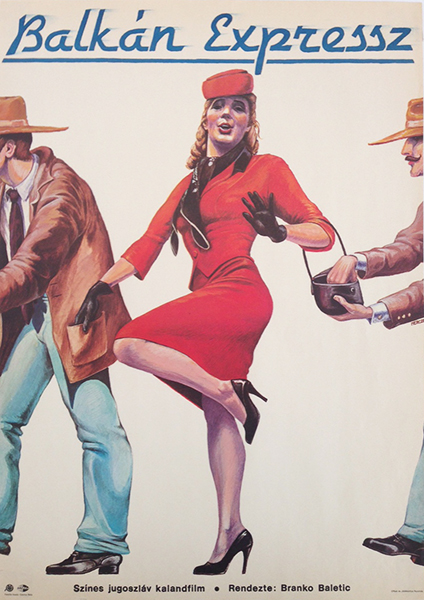 Balkan Express
Hungarian title:
Balkán Expressz
Size:
A1 1 Sheet (cca. 59 x 84 cm)
Material:
Paper, offset lithography.
Price: US$240
Description:
'Balkan Express' (Serbian: Балкан експрес) is a 1983 Yugoslavian advanture film by director Branko Baletić.
A group of petty criminals is trying to make some money under the disguise of musical band in Nazi-occupied Serbia in the 1940s. (source: imdb.com)
The movie poster is a skillful graphic design in a satirical character. The woman figure in front reflects the typical fashion trends of the 1940s, and she is surrounded by two man of same appearance on both sides. All of them are stealing the next ones, thus the figures form a continous pattern on the image, and contribute to the satirical portrayal.