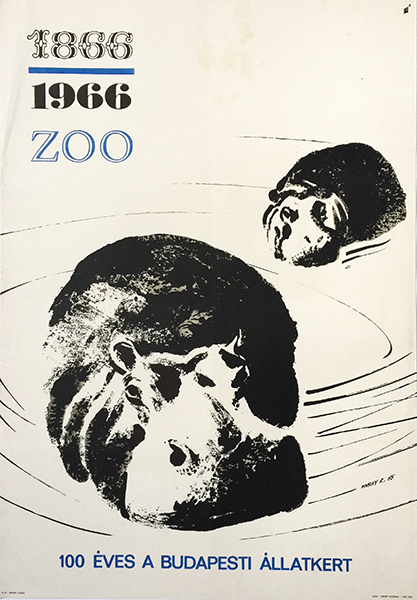 1866 - 1966. The Budapest Zoo is 100 years old
Hungarian title:
1866 - 1966. 100 éves a Budapesti Állatkert
Size:
B2 (cca. 50 x 70 cm)
Condition:
Fine, light fold marks, some staining.
Price: $200
Description:
Poster for the 100 year old zoo by Róbert Muray who was an enthusiastic environmentalist and designed numerous posters related to nature and animals.
The Budapest Zoo and Botanical Garden is one of the oldest in the world. Its history started 150 years ago. As indicated on the poster, it opened in 1866, August 9. Despite serious financial problems, the Zoo did not stop developing until the Second World War when it was almost completely destroyed by the severe bombings. Unfortunately only 15 animals survived out of the more than 2000 specimen the Zoo was providing home to. However, it reopened not long after the siege of Budapest, on the 1st of May, 1945 with a few species and dilapidated buildings. It was being rebuilt step by step then a major modernization took place in the 1950s.
Muray promoted the facility with the burned photography of the popular animals, two hippos. The water around them is indicated by delicate circular lines.