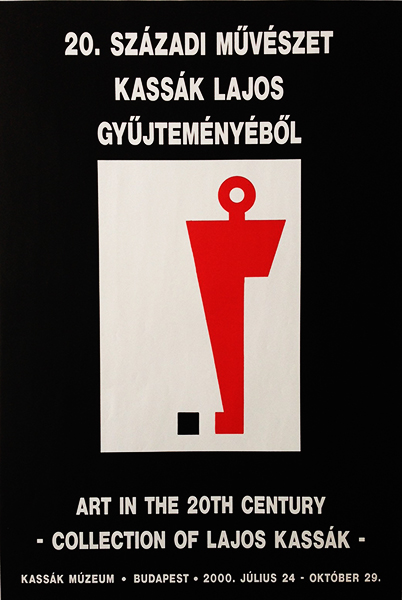 20th Century Art from Lajos Kassak's collection - Kassak Museum exhibition
Hungarian title:
20. századi művészet Kassák Lajos gyűjtteményéből
Size:
B2 (cca. 50 x 70 cm)
Condition:
Fine, light wear.
Material:
Paper, offset lithography.
Price: US$120
Description:
Exhibition poster of Kassák Museum. On the 24th of July in 2000, an exhibition of the collection of Lajos Kassák started.
Kassák was one of the most prominent Hungarian avant-garde artists. He was a poet, a writer and an artist. He had two journals, Ma (Today) and Tett (Deed), which were widely acknowledged among thinkers of the avant-garde era. Kassák Museum was founded in 1976 and it owns the heritage of Lajos Kassák. Besides taking actively part in researches considering the avant-garde movement, it often organizes exhibitions.