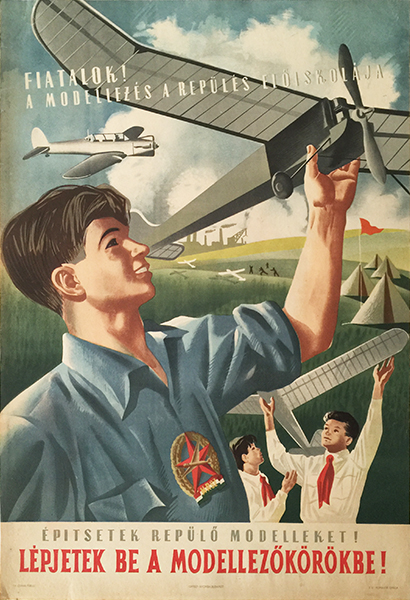 Youngsters! Model airplanes are the pre-school of aviation. Build flying models!
Hungarian title:
Fiatalok! A modellezés a repülős előiskolája. Építsetek repülő modelleket.
Size:
A1 1 Sheet (cca. 59 x 84 cm)
Condition:
Fine, fold marks, pinholes.
Material:
Paper, offset lithography.
Price: US$800
Description:
Youngsters! Model airplanes are the pre-school of aviation. Build flying models! is a 1951 vintage Hungarian socialist realist communist propaganda poster.
This piece dates back to the period of the darkest years of communism in Hungary. The political regime of the time controlled every aspect of not only the public, but also the private sphere. They supervised individuals' life in several ways and methods. Leisure time activities played was an essential part to be under control. That was why entertaining, recreation, sporting, and hobbies were guided by movements, organisations and other institutions led or controlled by the political party.
This poster is a perfect example of this phenomenon. It was designed to motivate the youth to build flying models, to join modelling groups. Obviously, these groups were under the control of politics, which is also shown by the poster. It depicts several young male figures playing with model airplanes. The figure in the foreground has a badge on his blue shirt with a big red star, a golden airplane, the national flag and a wreath of wheat. The other figures behind him are in white shirts and red neckties. The socialist symbols and the typical uniform of youth movements led by the party made it visible for the contemporary viewer of the poster that politics provided and cared about activities of people. Today they can be seen as elements of the one-time propaganda which was completed with the idealized background: on the top of the green hills a camp can be seen with green tents and a waving red flag, other figures are playing with several model airplanes in the distance, and far-far away some chimneys of factories are smoking – so everyone can see that the industry is productive.
This is a classic socialist realist composition with a seemingly cheerful atmosphere, and a heroic setting: the healthy, muscular, wide-shouldered young male figures appear as the future heroes of socialism. The realistic style and the recruiter tone of the design make it a good example of the propaganda works of the period. It is also interesting how the propaganda engaged youngsters: it used the naive charm of the pilot life to motivate them to join the modelling groups, claiming it is the pre-school of aviation.
(Anita Pásztor)