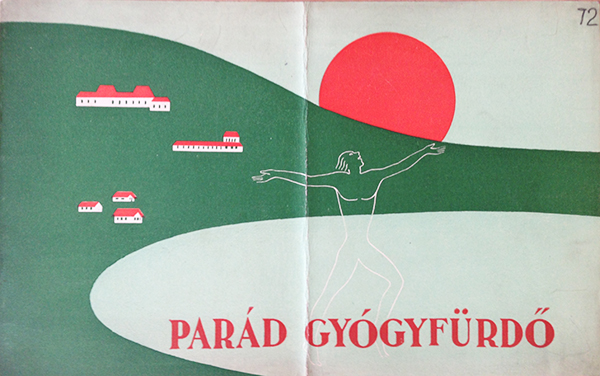 Description:
Brochure with beautiful cover design from the 1930s. Size: 14.5 x 23 cm.
The brochure was published to promote the thermal bath of Parád. The little book contains black and white photos of the place and description of the services offered by the facility. A few examples of the services: accomodation, hiking, medical treatment etc.
Parád medicinal water has been known since the 18th century. The place had been used as a public thermal bath since the 19th century. Until 1930 it was owned by a Hungarian aristocrat family (Károlyi family) and in 1930 the ownership was given to the state. In 1934 it became an officially qualified thermal bath. In the 1930s more than 2000 people a yera were treated at Parád. There was a casino, restaurant, coffee house in the facility were visitors could pass some time.
The design of the cover is a beautiful modernist design. The composition is very simple and minimalistic with beautiful colours. The two shades of pastel green and red presents the calmness of nature and the rising sun. The figure drawn with one single line stands there like like the phoenix bird, as he just got out from the thermal water and was reborn. The houses in the background refer to the beautiful castle and surrounding houses which give accomodation to the tourists. they seem to be very distant which emphasize the isolation and the calmness of the location.
On the back of the brochure there is a map showing Budapest-Parád distance and the surrounding cities and villages.