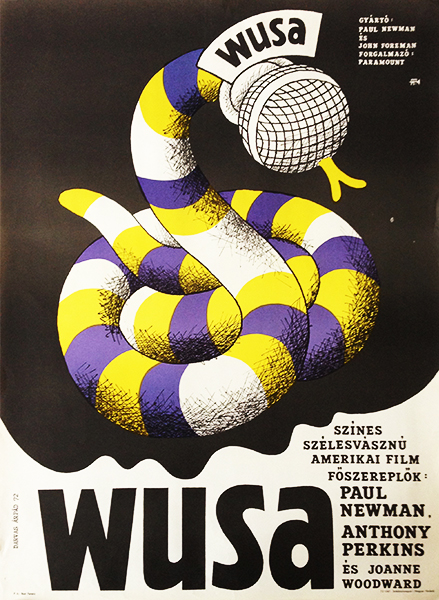 WUSA
Hungarian title:
WUSA
Size:
A1 1 Sheet (cca. 59 x 84 cm)
Condition:
Fine, light creases.
Material:
Paper, offset lithography.
Price: US$400
Description:
WUSA is a 1970 American drama film, directed by Stuart Rosenberg. It was written by Robert Stone, based on his novel A Hall of Mirrors. The cast included Paul Newman, Joanne Woodward, Anthony Perkins, Laurence Harvey, Cloris Leachman and Wayne Rogers.
Rheinhardt, a cynical drifter, gets a job as an announcer for right-wing radio station WUSA in New Orleans. Rheinhardt is content to parrot WUSA's reactionary editorial stance on the air, even if he does not agree with it. Rheinhardt finds his cynical detachment challenged by a lady friend, Geraldine, and by Rainey, a neighbor and troubled idealist who becomes aware of WUSA's sinister, hidden purpose. And when events start spinning out of control, even Rheinhardt finds he must take a stand. (wikipedia.org)
The designer of the poster, Árpád Darvas is one of the most important poster artists in the generation that started in the 1950s. He was a pioneer who renewed poster art with his new techniques and styles. This surrealistic composition with a snake and its microphone head is a good example of Darvas' works in the 1970s when the colourful pop art period was replaced by a surrealist poster style comprised of pencil drawings and a few colours.