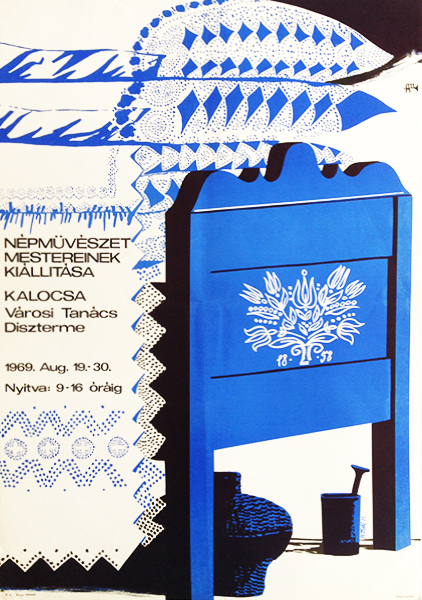 Exhibition of Masters of Folk Art
Hungarian title:
A népművészet mestereinek kiállítása plakát
Size:
A1 1 Sheet (cca. 59 x 84 cm)
Condition:
Fine, light creases along the border, horizontal fold mark.
Material:
Paper, offset lithography.
Price: US$400
Description:
Original Hungarian vintage poster for an exhibition of the Maters of Folk Art. The exhibition was held at Kalocsa in 1969.
Kalocsa is a city in Hungary which for many people equals to folk art. The folk art of Kalocsa has unique characteristics, however it is so popular and influential that one easily mixes it up with Hungarian folk art in general. Typical branches of folk art practiced in Kalocsa: pottery, wood craft, wood paint, wall paint, embroidery and dressing. The most typical pattern of the folk art of Kalocsa is the white annd blue pattern visible on the poster. The patterns used on the wood carvings used to be identical with the arrow-headed writing ornaments of Alföld. In the middle of the 19th century the ornaments based on tulip patterns took over. On the poster the typical tulip ornament is visible on a carving painted blue. There is a date under the ornament - 1838 - which most probably refers to the date when the new ornamentation finally replaced the old one. Other elements of Kalocsa's folk art are also showcased on the poster. This proves that József Pecsenke, the designer of the piece was familiar with the subject of his design. He managed to create a very harmonious and decorative piece.