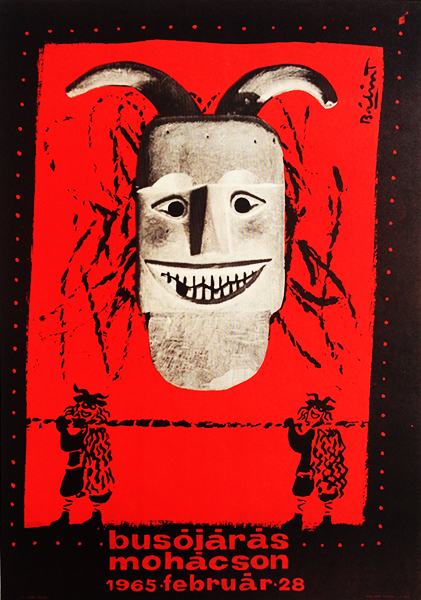 Busojaras at Mohacs
Hungarian title:
usójárás
Size:
B2 (cca. 50 x 70 cm)
Material:
Paper, offset lithography.
Price: US$600
Description:
This famous poster was created by Endre Balint, and it was used for several years to advertise the Busojaras festivities in Mohacs. This one is for the event held in 1965. The Busojaras (Hungarian, meaning "Buso-walking") is an annual celebration of the Sokci (Croats) living in the town of Mohacs, Hungary, held at the end of the Carnival (Farsang) season, ending the day before Ash Wednesday. The celebration features Busos (people wearing traditional masks) and includes folk music, masquerading, parades and dancing. Busojaras lasts six days, usually during February. These traditional festivities have been inscribed on the Representative List of the Intangible Cultural Heritage of Humanity of the UNESCO in 2009.