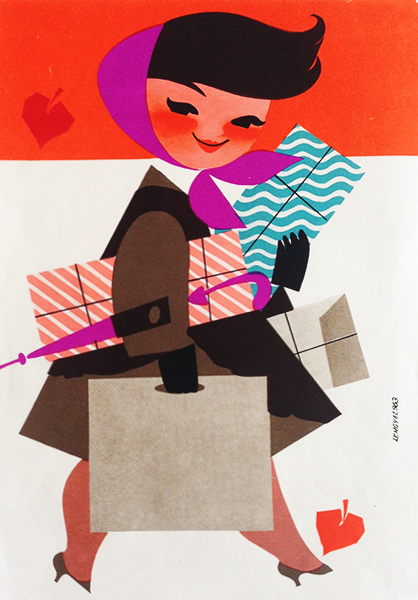 Prepare for winter
Hungarian title:
Készüljön a télre
Size:
A4 (cca. 29 x 21 cm)
Material:
Paper, offset lithography.
Price: US$280
Description:
Size: 21.5 x 30 cm.
Small version of Sándor Lengyel's one sheet fashion poster for winter fashion. The difference - apart from the size - is that this small version has no text on it, there is an orange stripe on the top and the colour of the bag the character carries is grey not white. Otherwise, the graphic design is exactly the same. The poster displays a woman's figure what is formed by plain geometrical shapes. She is packed with boxes, an umbrella and she is walking happily as leaves are falling slowly. A very kind and atmospheric design created in the characteristic style of Sándor Lengyel.