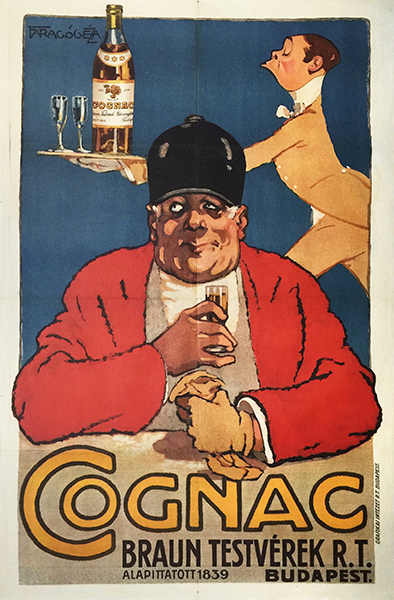 Cognac - Braun Brothers Co.
Hungarian title:
Cognac - Braun Testvérek R.T.
Size:
Pre-war 1 Sheet (cca. 95 x 63 cm)
Condition:
Fine, light fold marks and wear, small tears.
Material:
Paper, stone lithography.
Price: US$16000
Description:
This Braun Cognac vintage poster is a true Art Deco masterpiece from 1926 designed by Geza Faraga, one of the prominent poster artists of the 20th century. The decorative and beautiful Art Nouveau style is very efficiently combined with sharp humor here what was the characteristic of the works of Faragó's. He put a comic character in the center: an elder officer, secretly enjoying the cognac. He is accompanied by a young waiter, who also has a funny character but at the same time he is taking his job extremely serious.
In 1839 Lajos Braun estbalished the first liquor factory in Hungary. His company was based in Budapest and produced liqueurs, spirits, vinegar and champagne. The firm soon became very famous and successful, they won several prizes with their products. After Lajos, his sons inherited the company, which was renamed after them: Braun Brothers. At the turn of the century they had 80-90 employees, and the Braun Brothers trademark became one of the most known alcoholic beverage brands in Hungary. Their most famous product became their so called St Hubertus liqueur, which was developed in 1904.
Faragó made a pair for this poster in 1926. It also advertises the Braun Brothers products, St Hubertus liqueur and spirits. The setting is very similar: one man sits behind a table and tastes the drink. Just like the old man who drinks the cognac, he seems to be satisfied. Probably the two pieces were made at the same time, since the placement of the signature and scripts are very similar. Most of the posters for Braun Brothers' products were designed by Zoltan Konya, who used much simpler designs on his posters. He usually represents the name of the brand or product with a simple image of the bottle, or he combines this with one figure. The cognac must have been the luxury product of the company, which explains, why they chose a more acknowledged artist for the poster. Faragó gave the product a certain elegance with the style, the harmonic colours and the spectacular typography. He was able to combine this stylish impression with a certain playfulness.