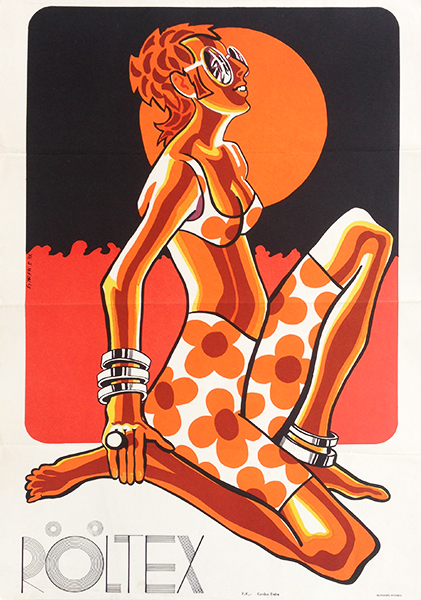 Roltex fabrics and home textiles store
Hungarian title:
Röltex - rövidáru, méteráru, lakástextil, szabás, varrás, textil
Size:
B2 (cca. 50 x 70 cm)
Condition:
Fine, fold marks, light wear.
Material:
Paper, offset lithography.
Price: US$1000
Description:
Eye-catching pop art poster for Röltex.
Röltex company was founded in 1949 and has been dealing in fabrics ever since. In the Socialist times the styles of ready-made clothing available on the market was very limited, hence it was common to buy fabrics and make more fashionable items at home.
At the end of the 1960s a new generation of poster artists appeared who learned from the greatest masters, and another boom in quality begun. Emőke Simonyi was among them, she was a member of the artist group Quintett alongside István Bakos, Kálmán Molnár, József Pecsenke and Károly Schmal. Simonyi created another poster for Röltex, also in pop art manner.
Advertising was a genre well fitting the plain language and popular art form of pop art, therefore both the artists and the audience were fond of it. The bright colour blocks surrounded by strong contours, the joyful atmosphere and the cartoon like manner seemed to be made for poster. The new trend was associated with America, the role model of consumerism, fashion and good taste, the symbol of freedom for people from socialist countries what made it even more popular. Interestingly, unlike posters, many pop art and surrealist fine art were banned by the censorship thus pop art and surrealism was mostly presented on the advertising columns in the Eastern bloc, instead of museums. This made the grey and boring streets bright, vivid and stirring.
This poster does not advertise Röltex by depicting products, but by showcasing an image with strong and entrancing atmosphere. A woman with exaggerated proportions is sitting, enjoying the sun. She is wearing sunglasses, jewellry and clothing fashionable in the late 1960s, just like her short haircut. The comic-like portrayal, the posture of the woman, her flowery shorts and top, her bold hairstyle all contribute to the atmosphere of the free Western world projected by the poster, a world that everyone living in socialism for long decades was longing for. The background is stylized and the woman looks like a movie character who stepped out from the television and arrived to our home, as she is rather sitting in front of the background than being a part of it. The message is clear: Röltex brings the careless, enjoyable Western fashion and lifestyle to our homes.