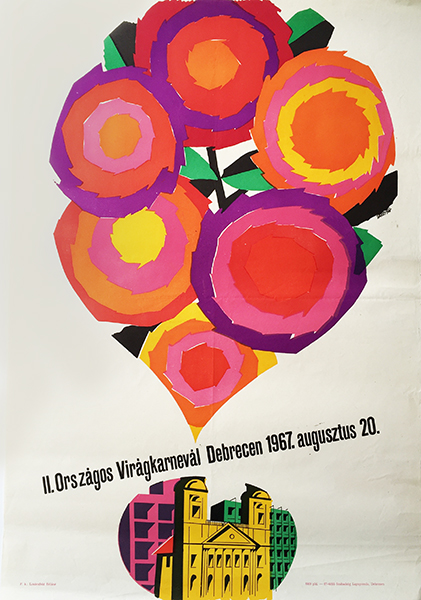 II. Flower Carnival in Debrecen
Hungarian title:
II. Nemzeti Virágkarnevál Debrecen 1967
Size:
B2 (cca. 70 x 50 cm)
Condition:
Fine, light creasing and wear.
Material:
Paper, offset lithography.
Price: US$600
Description:
Second National Flower Carnival in Debrecen is a 1967 vintage Hungarian event poster designed by Istvan Bakos.
The first flower carnival took place in 1966 and it is still being organized in Debrecen and considered one of Hungary's most spectacular and famous events. On the first occasions cars were decorated with flowers by workers of various factories, governmental enterprises or young soldiers and it soon became an international happening. Initially only socialist countries attended but after the change of the system (1989) Western countries joined as well.
In 1967, on the carnival promoted by this poster, ten companies and six schools participated and their compositions were judged by professional gardeners. As a part of the ceremony, the local committee of the Patriotic People's Front was awarded with a television as a reward for taking care of the landscaping of certain areas.
The author of the poster is István Bakos, a versatile graphic designer active from the 1960s. In the early ages of his career he mainly created pop art inspired works, then he switched to painting like designs. In the 1980s his compositions were mostly based on photos. Although the flower carnival poster bears some pop art characteristics, it is is not utterly pop art. The shape of the flowers and the image at the bottom give the impression of an exclamation mark. The image is the stylized depiction of the Protestant Great Church of Debrecen and its strictly constructed manner is in a sharp contrast with the playfulness of the flowers. It is a carefully constructed geometric drawing, looking like a coloured burned photo. The flowers are built up of paper cut outs. The bright colours create an eye catching contrast with the clean white background. The text is minimal, arranged in a diagonal line and separates the two parts of the composition - the flowers and the image of Debrecen city.