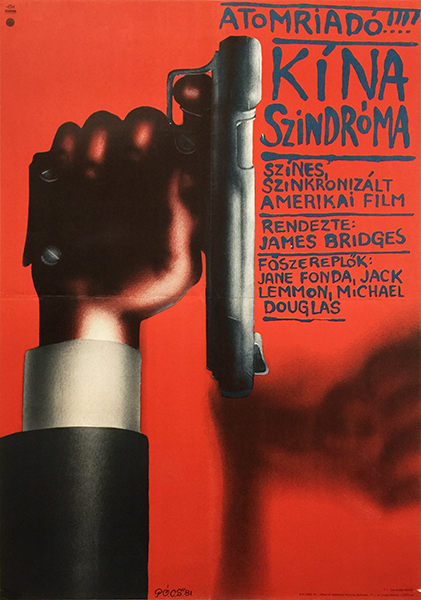 China Syndrome, The
Hungarian title:
Kína szindróma
Size:
A1 1 Sheet (cca. 59 x 84 cm)
Condition:
Fine, light fold marks and wear.
Material:
Paper, offset lithography.
Price: US$500
Description:
The China Syndrome is a 1979 American thriller film directed by James Bridges and written by Bridges, Mike Gray, and T. S. Cook. It tells the story of a television reporter and her cameraman who discover safety coverups at a nuclear power plant. It stars Jane Fonda, Jack Lemmon, and Michael Douglas, with Douglas also serving as the film's producer. The cast also features Scott Brady, James Hampton, Peter Donat, Richard Herd, and Wilford Brimley.
It was nominated for Academy Awards for Best Actor in a Leading Role (Lemmon), Best Actress in a Leading Role (Fonda), Best Art Direction-Set Decoration (George Jenkins, Arthur Jeph Parker) and Best Writing, Screenplay Written Directly for the Screen. It was also nominated for the Palme d'Or (Golden Palm) at the 1979 Cannes Film Festival, and Lemmon won Best Actor for his performance. The film's script won the 1980 Writers Guild of America award.
The film was released on March 16, 1979, twelve days before the Three Mile Island nuclear accident in Dauphin County, Pennsylvania, which gave the film's subject matter an unexpected prescience.
"China syndrome" is a fanciful term—not intended to be taken literally—that describes a fictional result of a nuclear meltdown, where reactor components melt through their containment structures and into the underlying earth, "all the way to China."
The March 16, 1979 release of the film was met with backlash from the nuclear power industry's claims of it being "sheer fiction" and a "character assassination of an entire industry." Twelve days later, the Three Mile Island nuclear accident occurred in Dauphin County, Pennsylvania. While some credit the accident's timing in helping to sell tickets, the studio attempted to avoid appearing as if it were exploiting the accident, which included pulling the film from some theaters. (source: wikipedia.org)
Hungarian first release poster.