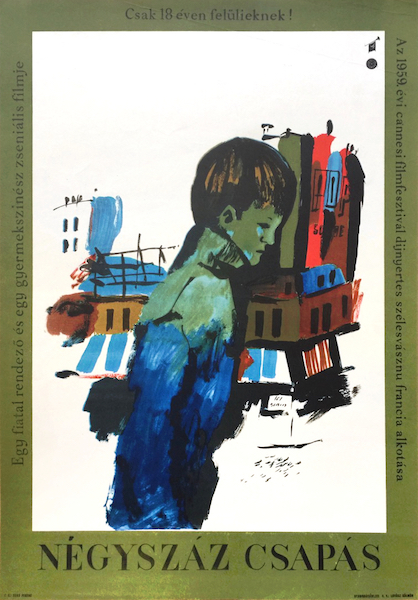 400 Blows, The
Hungarian title:
Négyszáz csapás
Size:
A2 1/2 Sheet (cca. 42 x 59 cm)
Condition:
Fine, light fold mark and wear.
Price: $1600
Description:
The 400 Blows is a 1960 vintage Hungarian movie poster most probably designed by Arpad Darvas.
The 400 Blows (French: Les Quatre Cents Coups) is a 1959 French New Wave drama film, shot in DyaliScope and the debut by director François Truffaut; it stars Jean-Pierre Léaud, Albert Rémy, and Claire Maurier. One of the defining films of the French New Wave, it displays many of the characteristic traits of the movement. Written by Truffaut and Marcel Moussy, the film is about Antoine Doinel, a misunderstood adolescent in Paris who struggles with his parents and teachers due to his rebellious behavior. Filmed on location in Paris and Honfleur, it is the first in a series of five films in which Léaud plays the semi-autobiographical character.
The 400 Blows received numerous awards and nominations, including the Cannes Film Festival Award for Best Director, the OCIC Award, and a Palme d'Or nomination in 1959. The film was also nominated for an Academy Award for Best Writing in 1960. The 400 Blows had a total of 4,092,970 admissions in France, making it Truffaut's most successful film in his home country.
The 400 Blows is widely considered one of the best French films in the history of cinema; in the 2012 Sight & Sound critics' poll of the greatest films ever made, it was ranked 39th. (source: wikipedia.org)