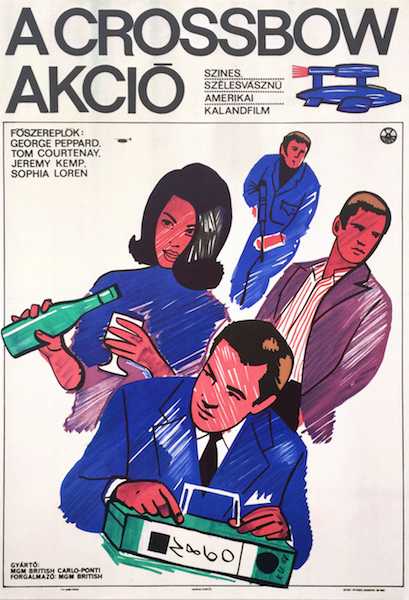 Operation Crossbow
Hungarian title:
A Crossbow akció filmplakát
Size:
A2 1/2 Sheet (cca. 42 x 59 cm)
Condition:
Fine, light fold marks and wear.
Material:
Paper, offset lithography.
Price: US$400
Description:
Operation Crossbow is a 1968 vintage Hungarian movie poster designed by Vilmos Kovacs.
Operation Crossbow, later re-released as The Great Spy Mission, is a 1965 British spy thriller and Second World War Metrocolor film about Operation Crossbow (1943−1945) in Panavision. It was directed by Michael Anderson and written by Emeric Pressburger, under the pseudonym "Richard Imrie", Derry Quinn and Ray Rigby from a story from Duilio Coletti and Vittoriano Petrilli. It was filmed at MGM-British Studios.
The film is a highly fictionalised account of the real-life Operation Crossbow, made with a large cast of the time's popular film stars, but it does touch on the main aspects of the operation. The scenes alternate between Nazi German developments of the V-1 flying bomb and V-2 rocket, with a German cast speaking their own language, and British Intelligence and its agents who are attempting to defend against the threats. (source: wikipedia.org)