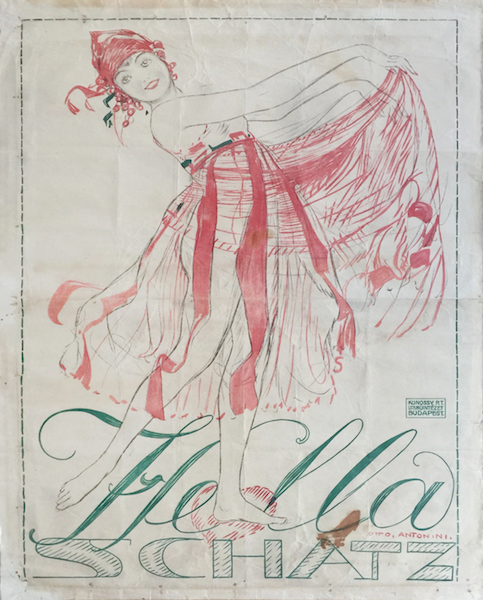 Description:
Hella Schatz is an original vintage 1920 Croatian vintage Art Deco poster.
Decorative Art Deco poster by the prominent Croatian master, Otto Antonini. This is a very rare poster, which was designed by a major figure of Croatian art deco graphic design. The poster was printed in Budapest, for a dance show of Hella Schatz, a today forgotten dancer.
The composition looks a bit like a sketch: the letters are not filled with color, the figure appear as a drawing. Antonini chose this decorative solution on purpose; thus his design saved the freshness of sketching. The drawing of the woman's body in motion shows the author's outstanding talent.
We can learn about the Croatian artist from a recommendation text of his exhibition at the Zagreb Museum:
"The best chronicler of the elite social life in Zagreb was Otto Antonini, the first rate sketcher, illustrator, painter, muralist, quicksketch artist, graphic artist and caricaturist. (...) He was an educated person, travel lover and a man of the world, with knowledge of foreign languages, connoisseur of fashion and modernism in architecture and design. (...) Antonini studied al fresco painting in Siena, but since in the Great War time and postwar era there was not too many orders of his works through churches, he started editing the magazine ˝Svijet˝ in 1926. The magazine covered the issues of easy sides of life – entertainment and dance, travel, technique, large-scale car ownership, sport as a life style of élite, not its competitive side and sensations; and its communication charm was based on a visual attraction." (source: mgz.hr)