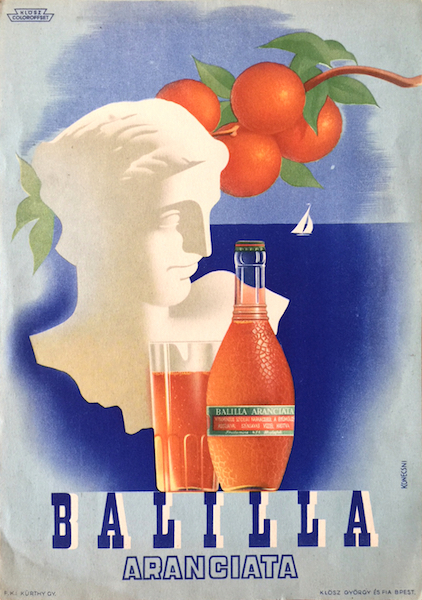 Balilla Aranciata orange soda
Hungarian title:
Balilla Aranciata narancsos üdítőital
Size:
Tram poster (cca. 24 x 17 cm)
Condition:
Fine, light wear.
Material:
Paper, offset lithography.
Price: US$800
Description:
Balilla Aranciata orange soda is an original 1940 vintage Hungarian advertising tram poster designed by Gyorgy Konecsni. The poster evokes the ambience of Italy, by depicting the sea, a sailing boat, an antique statue and an orange tree branch with multiple ripe oranges.
Orange soft drinks (called orange soda in certain regions of the United States and Canada, orangeade in the UK, or the genericised trademark orangina in France) are carbonated orange drinks. Non-carbonated orangeade, i.e. the direct orange analogue of lemonade, is also made, with brands such as Minute Maid, and blends like cherry orangeade and lemon-orangeade are also made in some places, with recipes being commonly available. Orange soft drinks (especially those without orange juice) often contain very high levels of sodium benzoate, and this often imparts a slight metallic taste to the beverage. Other additives commonly found in orange soft drinks include rosin and sodium hexametaphosphate. (source: wikipedia.org)