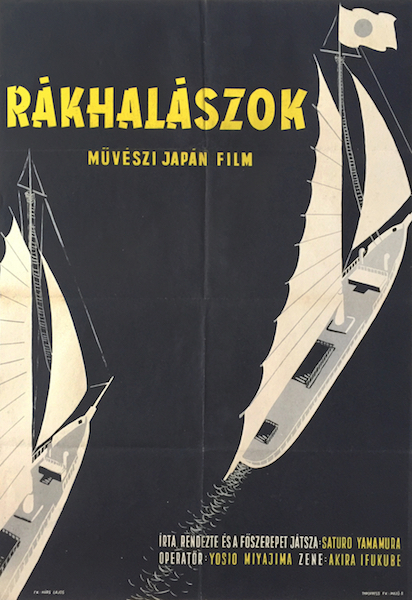 Description:
The Cannery Boat (original title: Kanikosen) is a 1956 vintage Hungarian movie poster advertising a 1953 Japanese film.
Director: Sô Yamamura
Writers: Takiji Kobayashi (novel), Sô Yamamura
Stars: Sô Yamamura, Masayuki Mori, Sumiko Hidaka
(source: imdb.com)
Takiji Kobayashi (小林 多喜二 Kobayashi Takiji, October 13, 1903 – February 20, 1933) was a Japanese author of proletarian literature. He is best known for his short novel Kanikōsen, or Crab Cannery Ship, a short novel published in 1929. It tells the story of several different people and the beginning of organization into unions of fishing workers. The young writer died due to violent torture after arrest by the Tokkō police two years later, at the age of 29.
In 1929, Kobayashi's novel Kanikōsen about a crab-fishing and canning ship's crew determined to stand up to a cruel manager under harsh conditions was published in Senki. It quickly gained attention and notoriety, and became a standard-bearer of Marxist proletarian literature. In July of that year, it was adapted into a theatrical performance and was performed at the Imperial Garden Theater under the title North of latitude 50 degrees north (北緯五十度以北). The full text of Kanikōsen, now the length of a short novel, was not available in Japan until 1948. Kanikōsen was subsequently published three times translated into English as The Cannery Boat (1933), The Factory Ship (1973), and The Crab Cannery Ship (2013), as well as in other languages. (source: wikipedia.org)