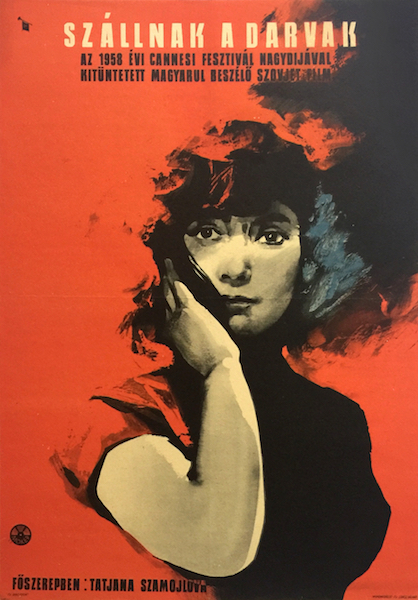 Cranes Are Flying, The
Hungarian title:
Szállnak a darvak
Size:
A2 1/2 Sheet (cca. 42 x 59 cm)
Condition:
Fine, light fold marks and wear.
Material:
Paper, offset lithography.
Price: US$480
Description:
The Cranes Are Flying 1958 vintage Hungarian movie poster designed by Lajos Gorog.
The Cranes Are Flying (Russian: Летят журавли, translit. Letyat zhuravli) is a 1957 Soviet film about World War II. It depicts the cruelty of war and the damage suffered to the Soviet psyche as a result of World War II (known in the Soviet Union as the Great Patriotic War). It was directed at Mosfilm by the Georgian-born Soviet director Mikhail Kalatozov in 1957 and stars Aleksey Batalov and Tatiana Samoilova. It won the Palme d'Or at the 1958 Cannes Film Festival, the only Soviet film to win that award, although The Turning Point (1946) was one of eleven films awarded that year's Grand Prix, the predecessor of the Palme d'Or.
The Cranes Are Flying
Directed by: Mikhail Kalatozov
Written by: Viktor Rozov (play & screenplay)
Starring: Tatyana Samojlova Aleksey Batalov Vasili Merkuryev, Aleksandr Shvorin
Music by: Moisey Vaynberg
Cinematography: Sergey Urusevsky
Edited by: Mariya Timofeyeva
Production company: Mosfilm
Distributed by: Warner Bros.
Release date: 1957 (USSR)
Running time: 97 minutes
Country: Soviet Union
(source: wikipedia.org)