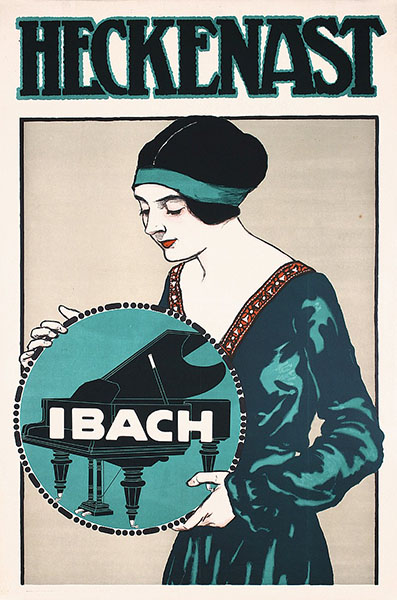 Heckenast Ibach piano
Hungarian title:
Heckenast Ibach zongora
Size:
Pre-war 1 Sheet (cca. 63 x 95 cm)
Condition:
Near mint, backed on Japanese paper.
Material:
Paper, stone lithography.
Price: US$4000
Description:
Heckenast Ibach pianos is a very unique Art Noveau poster by Geza Farago. The poster advertises piano hall in Budapest, which was owned by the famous publisher Gusztáv Heckenast. He owned several newspapers, including the most popular "Vasárnapi Újság" (~Sunday News). In this journal we can also find the advertisement of his piano hall, which was based in Gizella street, and which also had a telephone line! Heckenast's piano room was equipped with only Ibach pianos. (see the advertisement here: http://epa.oszk.hu/00000/00030/03155/pdf/VU_EPA00030_1914_19.pdf) Ibach was a leading German piano manufacturer, founded in 1793, and until 2007 it was the oldest functioning piano factory in the world.
The poster offered here is the top half of a longer, two sheet poster. However, it still functions as a very decorative Art Noveau poster.