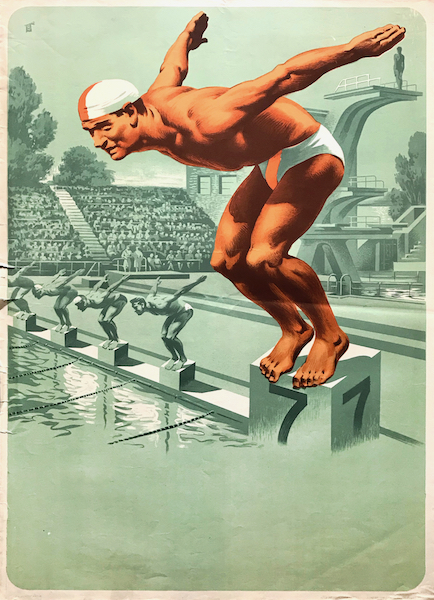 Swimming competition in Margitsziget - Budapest
Hungarian title:
Úszóverseny a Margitszigeten
Size:
B2 (cca. 70 x 50 cm)
Condition:
Fine, light fold marks and wear, small tears.
Material:
Paper, offset lithography.
Price: US$800
Description:
Swimming competition in Margitsziget - Budapest is a 1956 vintage Hungarian communist sport poster designed by Denes Vincze.
Beautiful sport poster from the 1950s. The poster is a blank, there is no text, but it was definately made for a swimming championship.
The composition is atypical of the era, Vincze avoided applying the obligatory rules of the Socialist Realist style that was apparent on the majority of Hungarian posters between 1949 and 1955. He mostly designed sport posters that always had his characteristic refined signature style on them, despite the artists at the time were strictly regulated and were forced to adjust their manner to the protocol set by the Soviet Union in relation with art. Therefore this, as well as his other works, are very special of the time.
On this painting-like poster the swimmer is just about to jump in the water. He pops out from the greyish blue background. Interestingly the scene behind him is just as well detailed, the contrast is provided by the colourful swimmer in the front and the pale shades of the back. In the background the competing other swimmers are depicted and a diver on the tower, what suggests that the poster was made for a championship where more water sports were represented alongside swimming. The position of the swimmer is well captured as well as the tones of his muscular body.
The date and place of the competition was supposed to be written on the blank part at the bottom.