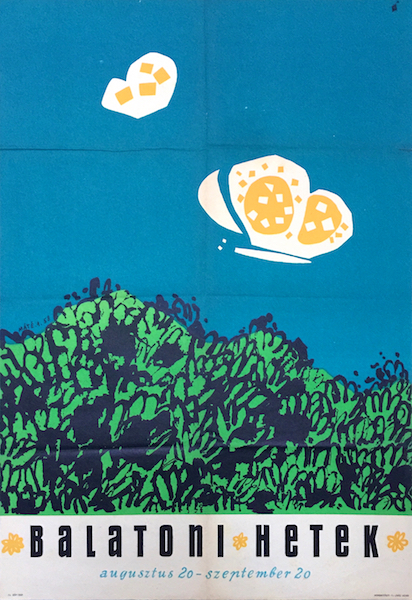 Balaton Weeks
Hungarian title:
Balatoni hetek - Augusztus 20. - Szeptember 20.
Size:
A1 1 Sheet (cca. 59 x 84 cm)
Condition:
Fine, light fold marks and wear, some discolouration.
Material:
Paper, offset lithography.
Price: US$1200
Description:
Lake Balaton weeks from August 20 to September 20 is a beautiful 1958 vintage Hungarian travel poster. It was designed by Andras Mate who was a central figure of the generation of artists that kicked off in the late 1950s, HIs designs have a lyrical, delicate, and harmonic character. Mate was well-known for his outstanding movie posters of the 1960s, but he also created commercial, propaganda and event posters. Máté often worked on posters for tourism, for the national bus company IBUSZ and the onetime Hungarian Airline Company, called Malev.
This poster was created in the last years of the 1950s, so it is an early travel poster by Mate. It advertised Balaton, a popular spot for holidays in Hungary.
Lake Balaton is a freshwater lake in the Transdanubian region of Hungary. It is the largest lake in Central Europe, and one of the region's foremost tourist destinations. It is located in central Hungary, about 50 miles (80 km) southwest of Budapest. It has an area of 231 square miles (598 square km) and extends for 48 miles (77 km). The mountainous region of the northern shore is known both for its historic character and as a major wine region, while the flat southern shore is known for its resort towns.
While a few settlements around Lake Balaton, including Balatonfüred and Hévíz, have long been resort centres for the Hungarian aristocracy, it was only in the late 19th century that the Hungarian middle class began to visit the lake. Later the construction of railways in 1861 and 1909 increased tourism substantially, but the post-war boom of the 1950s was even much larger. (sources: www.britannica.com, www.thelonelyplanet.com)
Here Mate employed a strong, expressive style, mixing techniques like painting and collage. Although the design doesn't include a depiction of landmarks from around Lake Balaton, it has a very pleasant vibe, as it is a fresh, colourful composition. The visuality of the poster was already a sign of a new, exciting era in Hungarian poster design.