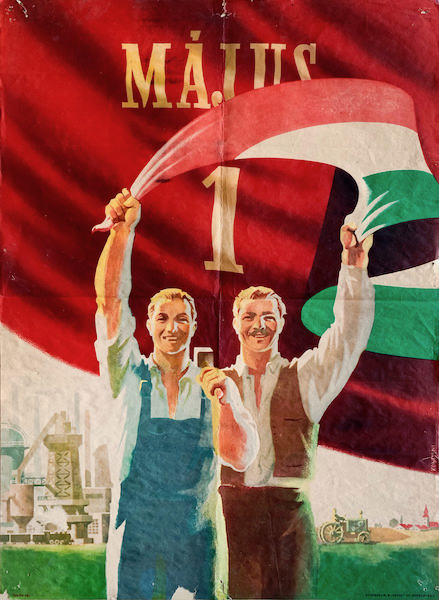 1st of May
Hungarian title:
Május 1
Size:
A1 1 Sheet (cca. 59 x 84 cm)
Condition:
Very good, fold marks, small tears and creasing, pinholes, small paper loss.
Material:
Paper, offset lithography.
Price: US$1600
Description:
1st of May is a 1950 vintage Hungarian communist socialist realist propaganda poster.
Original vintage Hungarian advertising poster. Socialist Realist communist political propaganda poster. Eastern Bloc countries such as the Soviet Union and most countries of central and eastern Europe that were under the rule of communist governments held official May Day celebrations in every town and city, during which party leaders greeted the crowds. Workers carried banners with political slogans and many companies decorated their company cars. The biggest celebration of 1 May usually occurred in the capital of a particular communist country and usually included a military display and the presence of the president and the secretary general of the party. During the Cold War, May Day became the occasion for large military parades in Red Square by the Soviet Union and attended by the top leaders of the Kremlin, especially the Politburo, atop Lenin's Mausoleum. It became an enduring symbol of that period. In Poland, since 1982, party leaders led the official parades. In Hungary, May Day was officially celebrated under the communist regime, and remains a public holiday. Traditionally, the day was marked by dancing around designated "May trees". Some factories in communist countries were named in honour of International Workers' Day.