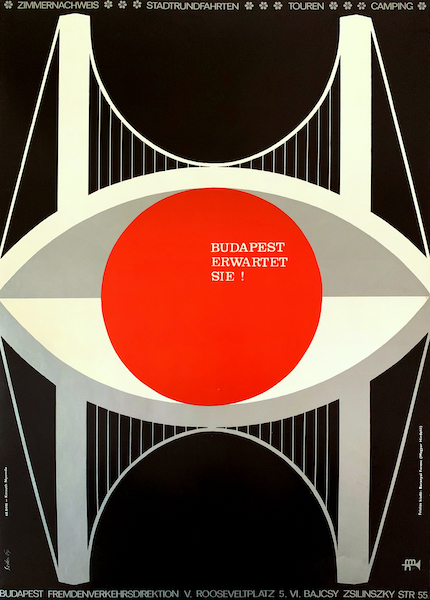 Budapest awaits you!
Hungarian title:
Budapest erwartet sie!
Size:
B2 (cca. 50 x 70 cm)
Condition:
Fine, light wear.
Material:
Paper, offset lithography.
Price: US$1200
Description:
Budapest awaits you! is a 1968 vintage Hungarian travel poster designed by Gyozo Szilas. This modern and minimalistic design uses two bridge motifs and simple geometric elements to construct an eye shape, which draws attention very efficiently. The simple, yet smart colour scheme and the balanced design creates a very decorative and effective design. This is a very atypical poster by Szilas, who had masterful drawing skills, as you can see from his other works in our inventory, on our website.
This travel poster promotes Budapest as one of the most famous travel destinations of Hungary. The text on the poster says in German: Budapest Awaits! Signed 'Szilas Gy.' on the left side. Publisher information: Kossuth Nyomda