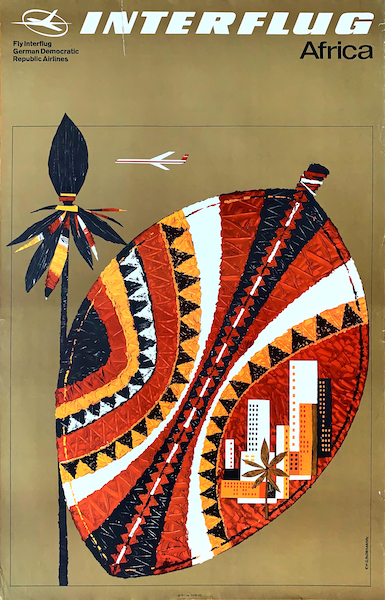 Description:
Interflug Africa is a 1960s vintage German airline travel poster designed by E.G. Bormann.
Vintage German Mid-century modern airline travel poster. Interflug was the national airline of the Democratic Republic of Germany from 1963 to 1990. Until 1945, Deutsche Luft Hansa had served as German flag carrier. Following the end of World War II and the subsequent allied occupation of Germany, all aircraft in the country were seized and the airline was liquidated. In 1954, a West German company acquired the Lufthansa trademark.
In 1955, Deutsche Lufthansa was founded as rival East German flag carrier. It soon became obvious that the East German airline would likely lose a lawsuit over the use of the Lufthansa branding. As a consequence, Interflug was set up on 18 September 1958 as a "back-up" company, initially intended to complement the East German aviation industry by operating chartered flights. In 1963, the East German Lufthansa was liquidated, officially due to poor profitability (though this step foreclosed the imminent stripping of the Lufthansa name). Its staff, aircraft fleet, and route network was transferred to Interflug, which henceforth served as the East German flag carrier.