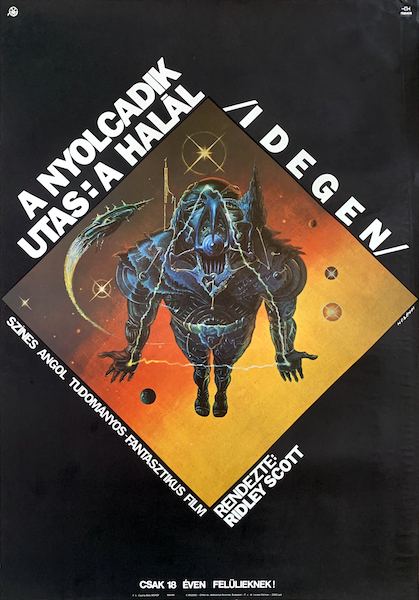 Alien
Hungarian title:
A nyolcadik utas: a Halál /Idegen/
Size:
A1 1 Sheet (cca. 84 x 59 cm)
Condition:
Very good, some light creasing, exposure to water and light fold mark along the right border.
Material:
Paper, offset lithography.
Price: US$2400
Description:
Alien is a 1980 vintage Hungarian horror sci-fi movie poster designed by Tibor Helenyi for the first Hungarian release of the film which was in 1981. From the estate of Tibor Helenyi.
Alien is a 1979 science fiction horror film directed by Ridley Scott and starring Tom Skerritt, Sigourney Weaver, Veronica Cartwright, Harry Dean Stanton, John Hurt, Ian Holm and Yaphet Kotto. The film's title refers to its primary antagonist: a highly aggressive extraterrestrial creature that stalks and kills the crew of a spaceship.
The Alien garnered both critical acclaim and box office success, receiving an Academy Award for Best Visual Effects, and many other awards. It has remained highly praised in subsequent decades, being inducted into the National Film Registry of the Library of Congress in 2002 for historical preservation as a film which is "culturally, historically, or aesthetically significant". In 2008 it was ranked as the seventh-best film in the science fiction genre by the American Film Institute, and as the 33rd-greatest movie of all time by Empire magazine. The success of Alien spawned a media franchise of novels, comic books, video games, and toys, as well as three sequel and three prequel films.
It also launched Weaver's acting career by providing her with her first lead role, and the story of her character Ripley's encounters with the Alien creatures became the thematic thread that ran through the sequels Aliens (1986), Alien 3 (1992), and Alien Resurrection (1997). The subsequent prequels Alien vs. Predator (2004) and Aliens vs. Predator: Requiem (2007) abandoned this theme in favor of a crossover with the Predator franchise. Scott began work on an Alien prequel in 2009, which developed into his 2012 film Prometheus, a quasi-prequel to Alien. The story is about a crew of a commercial deep space mining ship, investigating a suspected S.O.S. The ship lands on a distant planet and discovers a nest of strange eggs...
(source: wikipedia.org, imdb.com)