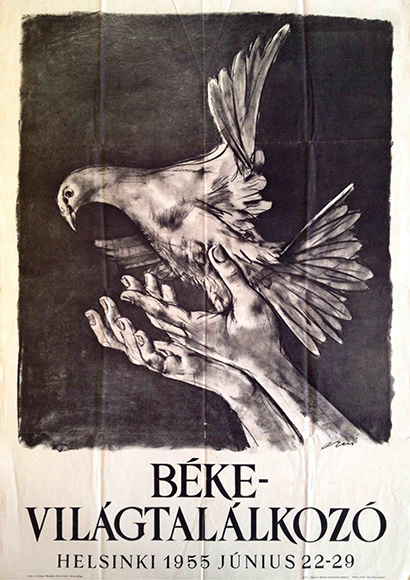 Description:
Poster for the World Summit of 1955. The event took place in Helsinki. The design of this poster was created by Hans Erni and it was used worldwide, only the text was translated.
Hans Erni was a Swiss graphic designer, painter, illustrator, engraver and sculptor. He studied art in France and Berlin, under his admired master artists like Pablo Picasso and Georges Braque. Erni is known for his postage stamps illustrations, his lithographs for the Swiss Red Cross, his participation on the Olympic Committee as well as his activism.
In this poster he used the well known symbol for peace, a white dowe. The bird is depicted flying away from two hands. The artist employed a fine, detailed drawing style which creates an elevated atmosphere of the design.