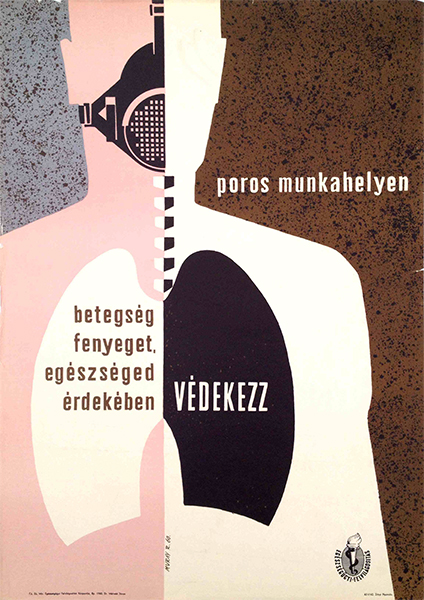 A dusty workplace threatens your health
Hungarian title:
A poros munkahelyen betegség fenyeget
Size:
B2 (cca. 50 x 70 cm)
Condition:
Fine, small tears along the border.
Material:
Paper, offset lithography.
Price: US$800
Description:
Highly decorative poster from 1960.
The poster was designed for a governmental health care campaign. The text on the poster warns the workers: "A dusty workplace threatens your health. Protect yourself against diseases!"
Although the poster was created to deal with such serious issues as healthcare, the poster employs beautiful pastel colours and smooth patterns. The composition is concentrated, consists only of a few elements, but all the more varied surfaces are depicted in a shocking way. The stylized figure of a human body with the lungs visible is split into two sides, a healthy and an unhealthy one. The healthy side wears a respirator and is white, while the unhealthy side is black. The air-pipe is also captured devided in black and white. The typographic design strengthens the visual effect.
The whole design is a fine, mature piece.