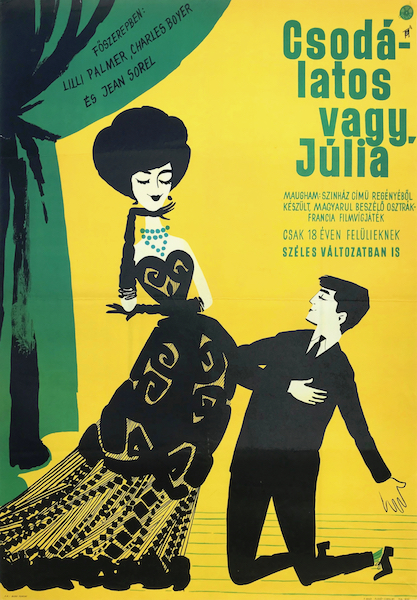 Adorable Julia
Hungarian title:
Csodálatos vagy, Júlia
Size:
A1 1 Sheet (cca. 55 x 84 cm)
Condition:
Fine, light fold marks and wear.
Price: $1000
Description:
Adorable Julia is a 1963 vintage Hungarian movie poster designed by Tibor Jakfalvy.
Adorable Julia (German: Julia, Du bist zauberhaft) is a 1962 Austrian comedy film directed by Alfred Weidenmann. It was entered into the 1962 Cannes Film Festival. (source: wikipedia.org)
Everybody loves Julia Lambert, she is so charming, she is so elegant, she is so irresistible... But Julia has problems. She is married to Michael, a stage producer, such an understanding man but also a little of a bore (although she will never admit it). She wants to be loved by all but she is (adorably) vain and self-centered. She is aging (just slightly) and at forty she is beginning (unconsciously) to ask herself questions. And now she has Fallen in love with Tom, a handsome young man, (only) a few years her junior. But Tom, more interested in climbing up the social ladder than in her personality, soon gets attracted to a cute upcoming actress, Averice Crichton...
Director: Alfred Weidenmann
Writers: Guy Bolton (play), Pascal Jardin
Stars: Lilli Palmer, Charles Boyer, Jean Sorel
(source: imdb.com)