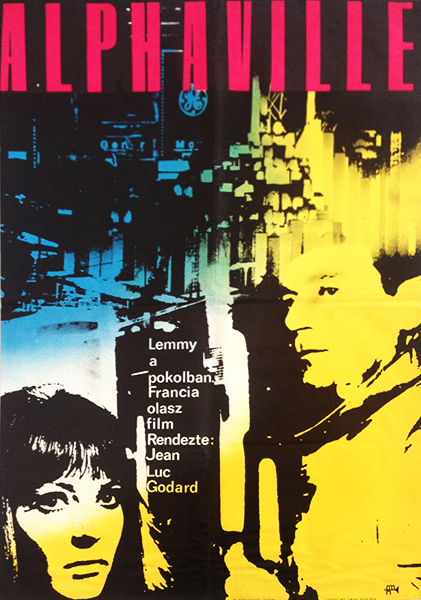 Alphaville
Hungarian title:
Alphaville
Size:
A1 1 Sheet (cca. 55 x 84 cm)
Condition:
Fine, light fold marks and wear.
Material:
Paper, offset lithography.
Price: $1000
Description:
Poster for the first release of the movie in Hungary.
Alphaville (original title: une étrange aventure de Lemmy) is a 1965 French science fiction noir film directed by Jean-Luc Godard. It stars Eddie Constantine, Anna Karina, Howard Vernon and Akim Tamiroff. The film won the Golden Bear award of the 15th Berlin International Film Festival in 1965.
Alphaville combines the genres of dystopian science fiction and film noir. There are no special props or futuristic sets; instead, the film was shot in real locations in Paris, the night-time streets of the capital becoming the streets of Alphaville, while modernist glass and concrete buildings (that in 1965 were new and strange architectural designs) represent the city's interiors. The film is set in the future but the characters also refer to twentieth century events; for example, the hero describes himself as a Guadalcanal veteran.
Expatriate American actor Eddie Constantine plays Lemmy Caution, a trenchcoat-wearing secret agent. Constantine had already played this or similar roles in dozens of previous films; the character was originally created by British pulp novelist Peter Cheyney. However, in Alphaville, director Jean-Luc Godard moves Caution away from his usual twentieth century setting, and places him in a futuristic sci-fi dystopia, the technocratic dictatorship of Alphaville. (source: wikipedia.org)
The design is the work of Győző Szilas, and it is a carefully composed, great design. He applied a technique which was introduced by József Finta and then became very popular among graphic artists. this technique was a combination of overexposed black and white photographs with strong contrasts placed in front of a colourful background thus creating an interesting montage. The title of the film is witten with strictly constructed letters carefully placed on the very top of the composition completely filling out the upper part of the poster. The rigid text and the colourful somewhat hectic composition creates another contrast. These many contrasts are what make this very impressive composition so vivid and eye catching.