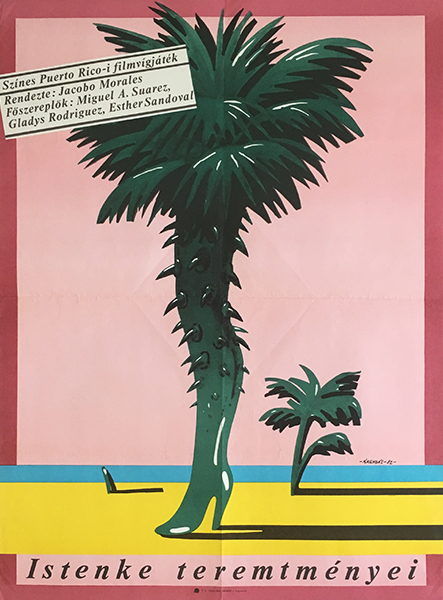 ...And God Created Them
Hungarian title:
Istenke teremtményei
Size:
A1 1 Sheet (cca. 59 x 84 cm)
Condition:
Fine, fold marks, light wear, small tears.
Price: US$320
Description:
...And God Created Them is a 1982 vintage Hungarian movie poster released in Hungary in 1983, designed by Jozsef Arendas.
Dios los cría is a 1979 Puerto Rican film.
Consists of five stories: "Dios los cría...", dealing with brothers' rivalry for an inheritance; "Negocio redondo", about a lawyer selling a property to the Catholic church with guilty feelings; "Entre 12 y 1", where a couple and a close friend get trapped in an elevator; "La gran noche", a night in the life of an old prostitute; and "La otra", where a man alternates between two women.
Director: Jacobo Morales
Writer: Jacobo Morales
Stars: Norma Candal, Carlos Cestero, Pedro Juan Figueroa
(source: imdb.com)