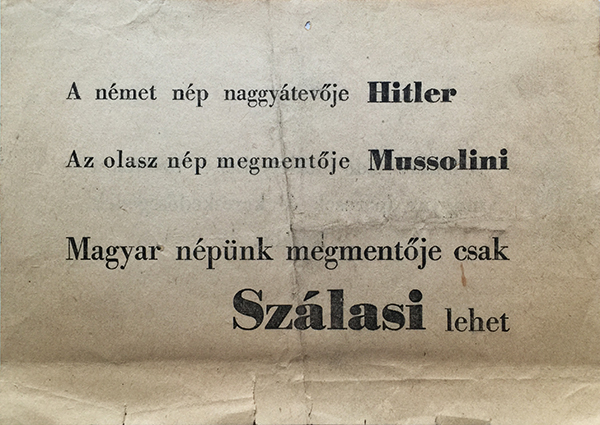 Anti-Semitic nazi leaflet
Hungarian title:
Szélsőjobboldali röplap
Condition:
Very good. Light fold mark, small tears along the border. Dirt and a pin hole on the surface.
Price: $200
Description:
Extreme rightist leaflet. Size: cca. 10.5 x 14.5 cm.
The text says: The savior of the German people is Hitler. The savior of the Italian people is Mussolini. The savior of our Hungarian people can be noone else but Szálasi.
Ferenc Szálasi was an extreme rightist politician, the founder of the Hungarian Arrow Cross party. He got into power in 1944, October when his predecessor was forced to resign by the Germans due to his intention of quitting the Second World War. The atmosphere in Hungary in the 1940s was very anti-semitic due to several factors and historical events, dissappointment and bad experiences with the Soviet system. This leaflet is a proof of this.
The backside of the document is also printed. The text says: Give the closed Jewish workshops and shops to Hungarian craftmen and tradesmen.