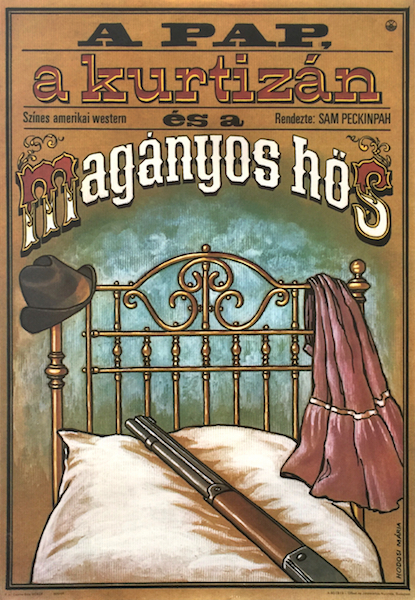 Ballad of Cable Hogue, The
Hungarian title:
A pap, a kurtizán és a magányos hős
Size:
A2 1/2 Sheet (cca. 42 x 59 cm)
Condition:
Fine, light wear.
Material:
Paper, offset lithography.
Price: US$320
Description:
The Ballad of Cable Hogue is a 1980 vintage Hungarian western movie poster designed by Maria Hodosi.
The Ballad of Cable Hogue is a 1970 American Western film directed by Sam Peckinpah and starring Jason Robards, Stella Stevens and David Warner. Set in the Arizona desert during a period when the frontier was closing, the film follows three years in the life of a failed prospector. While unmistakably a Western, the movie is unconventional for the genre and for the director. It contains only a few brief scenes of violence and gunplay, relying more on a subtly crafted story that could better be characterized as comedic in nature. (source: wikipedia.org)