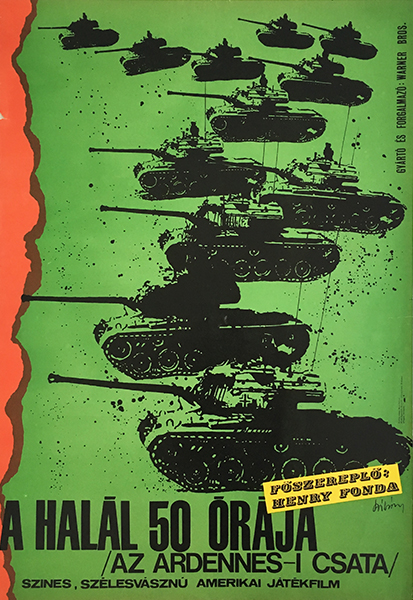 Battle of the Bulge
Hungarian title:
A halál 50 órája
Size:
A1 1 Sheet (cca. 55 x 84 cm)
Condition:
Fine, light wear, small paper loss at the left border.
Material:
Paper, intaglio.
Price: $800
Description:
Battle of the Bulge is a 1968 Hungarian vintage movie poster designed by Nandor Szilvasy for a US film.
First release poster of the film in Hungary.
Battle of the Bulge is a 1965 American widescreen epic war film produced in Spain, directed by Ken Annakin, and starring Henry Fonda, Robert Shaw, Telly Savalas, Robert Ryan, Dana Andrews and Charles Bronson. The feature was filmed in Ultra Panavision 70 and exhibited in 70 mm Cinerama.
Battle of the Bulge had its world premiere on December 16, 1965, the 21st anniversary of the titular battle, at the Pacific Cinerama Dome Theatre in Hollywood, California. The filmmakers attempted to condense the Ardennes Counteroffensive, a World War II battle that stretched across parts of Germany, Belgium and Luxembourg and lasted nearly a month, into under three hours. They also shot parts of the film on terrain that did not resemble actual battle locations. This left them open to criticism for lack of historical accuracy, but they claimed in the end credits that they had "re-organized" the chronological order of events to maximize the dramatic story.
Unlike most World War II epics, Battle of the Bulge contains virtually no portrayals of actual senior Allied leaders, civilian or military. This is presumably because of controversies surrounding the battle, both during the war and after. Though Allied forces ultimately won the battle, the initial German counteroffensive caught them by surprise and caused many casualties. (source: wikipedia.org)
The design is created by Nándor Szilvásy. He used a photo showing the attack of tanks on the battlefield. The photo is very contrasted; this technique was called "burned photography" - it was in fashion in the 1960's and 1970's. The black and white images of the tanks appear on an intensive green background. On the left side a strong red color refers to the horrors of the battle.