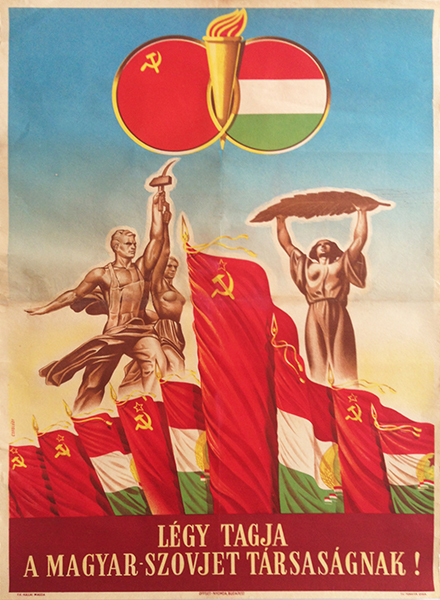 Become a member of the Hungarian - Soviet Association!
Hungarian title:
Légy tagja a magyar-szovjet társaságnak!
Size:
A1 1 Sheet (cca. 59 x 84 cm)
Condition:
Fine, restored, fold marks, small tears along the border
Material:
Paper, offset lithography.
Price: US$2400
Description:
Become a member of the Hungarian - Soviet Association! is a 1951 vintage Hungarian socialist realist communist propaganda poster designed by Istvan Czegledi.
The Hungarian-Soviet Association was founded in 1945 and its original name was the Hungarian-Soviet Cultural Association. Its goal was said to be the strengthening the Hungarian-Soviet relationship. The real activity of it was propagating the Soviet type communist system among the members. The society's founder and head was Albert Szentgyörgyi, the Noble prize winning Hungarian scientist. After one year the society had more than one million members and by 1948 it became a communist mass organization. It was when its name was altered to Hungarian-Soviet Society. The society collapsed in the 1956 Revolution but it was reestablished after that and did not stop working until the change of the system in 1989. The poster bears the typical characteristics of the obligatory socialist-realist style of the time.
On a wedge formed forest of the Soviet and the communist Hungarian flags, stands the landmark sculptures of the two states, the "Worker and Kolkhoz Woman" and the "Liberty Statue" of Hungary. The former one, the worker who holds aloft a hammer and the kolkhoz woman with a sickle to form the hammer and sickle was created by Vera Mukhina for the 1937 World's Fair in Paris and it has subsequently moved to Moscow. The workers are gazing into the bright future as always on the socialist realist posters. The Statue of liberty was the memorial of the Soviet army liberating Hungary from the Germans therefore it became a symbol of liberty for the socialists. After the change of the system the statue was redesigned and today only a few people know about its 'communist past' - the majority regards it as the general symbol of liberty. Above the figures the emblem of the Association, two intersecting circles, one is red with yellow sickle and hammer, the other coloured according the Hungarian tricolor, a torch with flame inserted into the intersection.