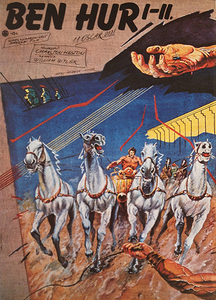 Ben-Hur
Hungarian title:
Ben Hur
Size:
A1 1 Sheet (cca. 55 x 84 cm)
Condition:
Near mint, unfolded.
Price: $320
Description:
Poster for the first release of the movie in Hungary.
The poster depicts an image of a horse-riding scene and handwritten-like text beside it as if what we can see was a page of a sketchbook. There is also a hand painted on the right corner of the poster and a musculous arm with a whip below aiming at the terrified hourses. These mechanisms make this poster a metapicture (the picture that explicitly reflects on itself).
Ben-Hur is a 1959 American epic historical drama film, directed by William Wyler, produced by Sam Zimbalist for Metro-Goldwyn-Mayer and starring Charlton Heston, Stephen Boyd, Jack Hawkins, Hugh Griffith and Haya Harareet. A remake of the 1925 silent film with the same name, Ben-Hur was adapted from Lew Wallace's 1880 novel Ben-Hur: A Tale of the Christ.