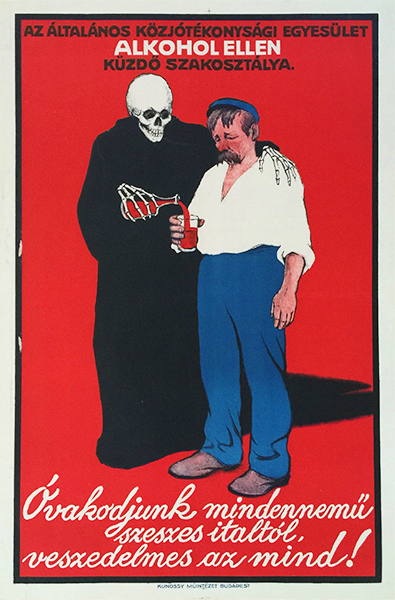 Beware of any Kind of Alcoholic Beverage!
Hungarian title:
Óvakodjunk mindennemű szeszesitaltól, veszedelmes az mind! - Általános Közjótékonysági Egyesület alkohol ellen küzdő szakosztálya
Size:
Pre-war 1 Sheet (cca. 63 x 95 cm)
Condition:
Fine, light creasing and wear, small tears slight damage at the left border.
Price: US$6000
Description:
The anti-alcohol division of the General Well-being Association gave commission to design the 'Beware of any Kind of Alcoholic Beverage, they are all perilous' poster. Ervin Voit was a painter and graphic artist who won a tender for this anti-alcohol campaign in 1912, hence the poster was created. In the 1910s there were numerous anti-alcohol campaigns in Hungary. Alcoholism was a huge problem in that era and the posters to convince people to stop drinking were typically dark, strong and expressive designs. This outstanding poster is no exception. The skull-headed death is offering a strong red liquid to the poor man, and seemingly this is not the first time that he encounters a drink. The violently strong, dark red background accentuates the black figure of death.