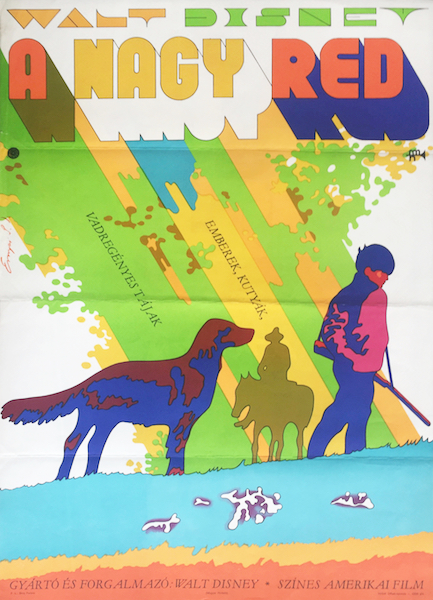 Big Red
Hungarian title:
A nagy Red
Size:
A1 1 Sheet (cca. 55 x 84 cm)
Condition:
Fine, fold marks, creases along the border.
Material:
Paper, offset lithography.
Price: $1200
Description:
Big Red is a 1962 American family-oriented adventure film from Walt Disney Productions. Based on a 1945 novel by American author Jim Kjelgaard and adapted to the screen by American screenwriter Louis Pelletier, the film starred Walter Pidgeon.
Filmed in the province of Quebec, "Big Red" is an Irish Setter that would rather run through the woods than be the perfectly trained and groomed show dog his sportsman owner (Pidgeon) wants. A ten-year-old orphan boy (Payant) helps look after the dog and rebels against his owner's strict discipline of "Big Red."
The poster is a beautiful pop art inspired piece by Sándor Ernyei, who primarily designed movie posters. The colourful composition depicts the two main characters of the film in the foreground: the "Big Red" and the orphan boy while the owner of the dog appears in the distance.