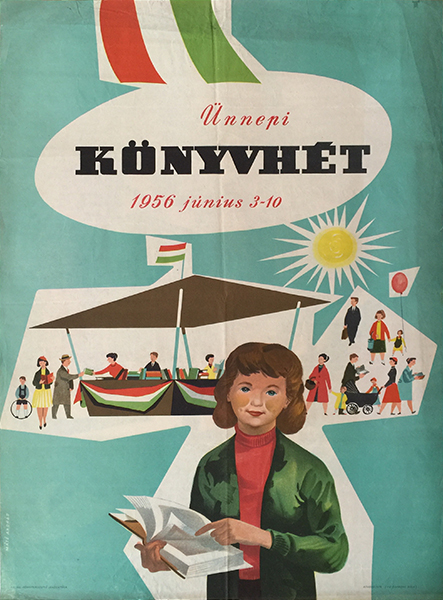 Book Week
Hungarian title:
Könyvhét
Size:
A1 1 Sheet (cca. 55 x 84 cm)
Condition:
Fine, fold marks, tears, dirt.
Price: $600
Description:
The year of the creation of this poster is 1956. If one mentions Hungary and 1956 many immediately associates the revolution and war of independence of the year which raised international attention. The Hungarian revolution with the famous "boys of Pest" was against the Soviet occupation in the country. However, around that time not only politics was changing, but the art world as well.
In the beginnings of the decade artistic freedom was under constraint by the political dictatorship of the era. The strict rules of Socialist Realism were obligatory, in accordance with other Eastern European countries in the Soviet Union. It meant that artists had to meet the requirements of a socialist content and a realist manner. However, the system soon started to soften and after 1956 Socialist Realism lost its artificially maintained absolutism in arts in the country.
This poster was made in 1956. The designer was András Máté who is famous for his movie posters from the 1960s. That was the golden age of movie posters around the world and in Hungary as well. Máté designed outstanding pieces with a wide range of techniques, including photomontage, line drawing, and paper-cut, typographic elements and expressive painting. This piece is an early work of his which still rather fits in the atmosphere of the first half of the 1950s, which is really interesting because it wasn't not typical of him. On the other hand, it is a more modern design than the average socialist realist pieces of the time.
This work was designed to advertise the Book Week, 3-10 June, 1956. There is a female figure in the centre of the composition holding an open book in the hands and looking at the viewer. Behind her there is a pavilion decorated with national flags where people are selling and buying books. It is surrounded by a little crowd of many different characters – children and adults, individuals and families. The homogenous light blue background shows only the shining sun above. All these elements appear in a white polygonal panel in front of the background, and the sunshine is also portrayed with a white wreath of spike-like motifs. The title appears above in an ovate white panel with the national tricolours over it. The greyish shades of terrene colours and the ceremonial atmosphere of the design are familiar from socialist realist designs, but the shapes are more simplified, the figures are much more stylized, and the whole composition is more concentrated and tight. The use of paper-cut technique is apparent here which, together with the bit cartoon-like character of the figures, makes this design a good indicator of the way Máté was shifting towards his own style.