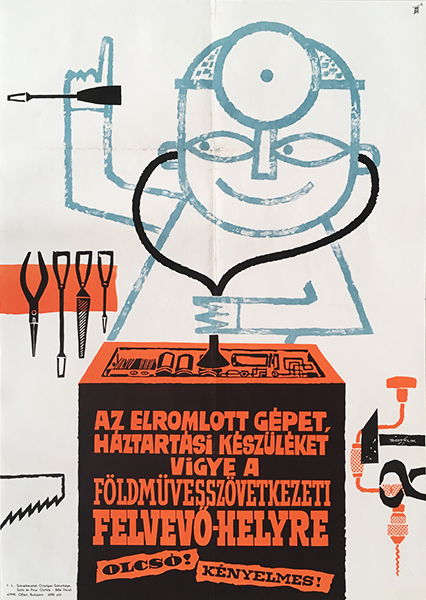 Bring the broken household appliances to the cooperatives
Hungarian title:
Az elromlott gépet, háztartási készüléket vigye a földművesszövetkezeti felvevő helyre...
Size:
B2 (cca. 50 x 70 cm)
Condition:
Fine, fold marks.
Price: $240
Description:
Bring the broken machines and household appliances to the pick up location of the agricultural cooperatives. An agricultural cooperative, also known as a farmers' co-op, is a cooperative where farmers pool their resources in certain areas of activity. Co-operatives were officially organised in the socialist Hungary. They offered services to their members, such as repairing the broken tools and machines. (source: wikipedia.org) József Bottlik created a playful posters to advertise this service: he represents the mechanic as a doctor of broken equipment.