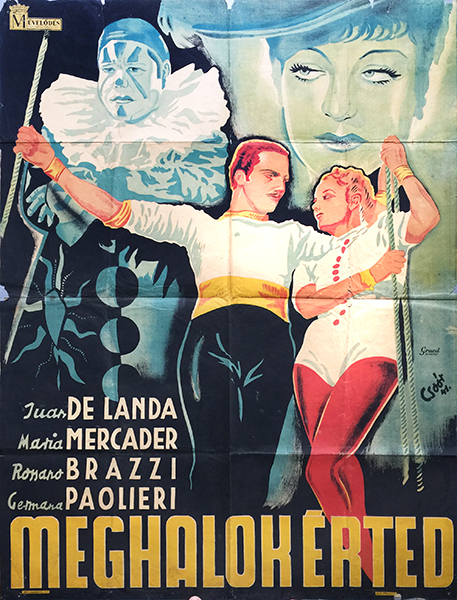 Description:
Colourful and spectacular poster from the beginning of the 1940s. The author is a graphic artist called Mariann Csoór. She created many movie posters during the interwar period.
The poster was created for an Italian movie, 'Brutal Force'. The Hungarian title means "I'll die for you", but the original title of the film is: "La forza bruta". The movie is a romantic drama which takes place in a circus and the actors were real circus artists.
The poster is a detailed and concentrated design. It depicts the four main characters of the movie in a montage of Rossano Brazzi (Fred), Juan de Landa (Bob), Maria Mercader (Nell) and Germana Paolieri (Diana). The foreground captures Bob and Nell holding circus ropes, Fred appears on the left in clown suit with the arms crossed, and the face of Diana is placed on the right, in the background. The composition is quite dramatic, the colours are beautiful pastel shades and the portrayal is very decorative.
The design is characterised by the style of Art Deco which was one of the main tendencies in the 1930s and the 1940s. The essence of this style is the decorative beauty, thus it uses motives from contemporary popular visual culture (like films, advertisements, photos) and from earlier styles, too. Art Deco was especially characteristic in the genre of movie posters during the period, which means that a plenty of fine art deco movie posters can be found from those times. This poster is an example of them.
Mariann Csoor was a graphic designer. She designed numerous posters between the late 1930s and the early 1950s, mostly movie posters.